Sign posted at Duke University-North Carolina football game. Durham, North Carolina, 1939

---
North-Carolina
---

Sequoyah invented a system for writing the Cherokee language
The Cherokee Indians, a branch of the Iroquois nation, can trace their history in this region back more than a thousand years. Originally their society was based on hunting, trading, and agriculture. By the time European explorers and traders arrived, Cherokee lands covered a large part of what is now the southeastern United States.

---

Sir Walter Raleigh
The first European settlement in North Carolina is the famous Lost Colony of Roanoke Island that vanished sometime after 1587. North Carolina is the northern portion of the original 1629 land grant made by England's King Charles I, which was named in his honor (Carolus is Latin for Charles). North Carolina joined the Union in 1789 and is the 12th of the original 13 states. Today, North Carolina is a growing research center and banking state. The capital of the "Tar Heel State" is Raleigh, and the dogwood blossom is the state flower.
---
---
North Carolina Depression Era Photographs
---

Mountain Music Festival, Asheville, North Carolina
---

Snapping peanuts, Roanoke Farms, North Carolina, April 1938
---

Brother And Sister
---

Days Fish Market, Washington, North Carolina
---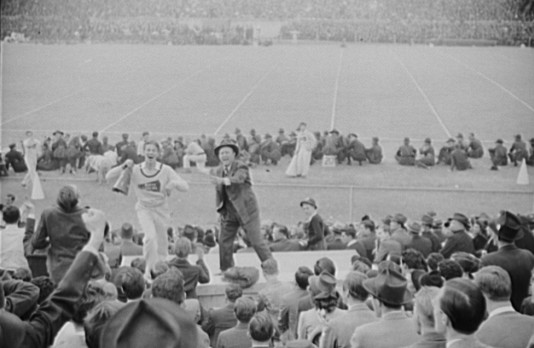 Cheerleader & Kay Kyser, Duke University vs. North Carolina football game.
Durham, North Carolina, 1939

Kay Kyser
Born: June 18, 1905
Origin: Rocky Mount, North Carolina
Genre(s): Big band, swing
Occupation: Vocalist, bandleader
Died: July 24, 1985 (aged 80)
---
Franklin D. Roosevelt
dedicated the Great Smoky Mountains National Park on September 2, 1940, "for the permanent enjoyment of the people."
---
Blue Ridge Parkway
---
---
Cape Hatteras Lighthouse
---
Historic America
Alabama
Alaska
Arizona
Arkansas California
Colorado
Connecticut
Delaware
Florida
Georgia
Hawaii
Idaho
Illinois
Indiana
Iowa
Kansas
Kentucky
Louisiana
Maine
Maryland
Massachusetts
Michigan
Minnesota
Mississippi
Missouri
Montana
Nebraska
Nevada
New Hampshire
New Jersey
New Mexico
New York
North Carolina
North Dakota
Ohio
Oklahoma
Oregon
Pennsylvania
Rhode Island
South Carolina
South Dakota
Tennessee
Texas
Utah
Vermont
Virginia
Washington
West Virginia
Wisconsin
Wyoming
Washington D.C.
Home