Captain John Smith, from his 1614 map of New England
______________________________________________________

Virginia
April 10, 1606, the Charter of the Virginia Company of London was established by royal charter by James I of England with the purpose of establishing colonial settlements in North America.

The Virginia Company founded the first permanent English colony at Jamestown in 1607. One of the original 13 states (it entered the Union in 1788), Virginia was named for Elizabeth I, the Virgin Queen of England. Virginia holds an important place in American history, as it was home to many of the founding fathers, including George Washington, Thomas Jefferson, James Madison, George Mason, and Patrick Henry. Four of America's first five presidents were Virginians. During the Civil War, Richmond, Virginia's capital, was the capital of the Confederacy. Today, Virginia is a popular tourist spot where people can visit historic places such as Alexandria, Williamsburg, and Mount Vernon, George Washington's estate. Dogwood is the state flower and the cardinal is the state bird of the "Old Dominion."

---
Fiddler Henry Reed of Virginia
Henry Reed, grew up in Glen Lyn, Virginia. Reed was born in 1884 and grew up in a musical family. He spent most of his life performing fiddle tunes that bring to mind the history of the state's Appalachian frontier. Reed learned an amazing number of tunes, most of them by ear. He knew a wide variety of melodies, such as those from the early American frontier, waltzes, popular tunes from the turn of the 20th century, and 19th century marches.

The style of Henry Reed's fiddle playing, like the style of other older fiddlers in the South, is a combination of different influences. For instance, the rhythms he used came from both European and African American influences. American Indian music may also have made an impact on the method of playing that Reed learned so many years ago. Many of the traditional tunes Reed played became popular again during the fiddling revival of the later 20th century.
The Fiddle
The fiddle — that is, the modern European violin — arrived in North America in the seventeenth century. In the later eighteenth century, European manufacturers made the violin cheap and readily accessible. As it became the new instrument of choice, its democratization fostered a revolution in dance music in the English-speaking world. One regional flowering that grew out of this cultural revolution occurred in the Piedmont and the Appalachian Mountains of Virginia — the "old frontier" of America's westward expansion. The fiddle tunes and the fiddle style of the old frontier were carried westward as settlement expanded into the trans-Allegheny West. At the same time, with the rise of the minstrel stage, the fiddle tunes of the old frontier carried their energy and creative musical ferment — including a synthesis of not only British but African and perhaps Native-American cultural elements — from the rural Upper South into American popular music.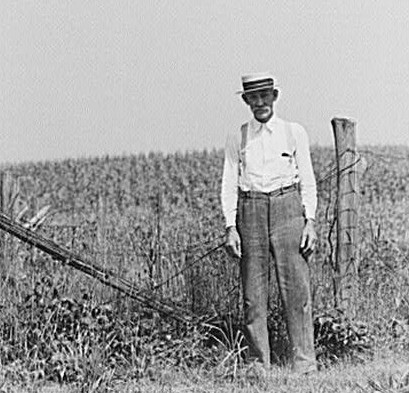 Uncle Buck Moreland of Purcellville, Virginia.
Carpenter and country fiddler, August 1937.